blog

random thoughts + commentary

older entries
click on an image below to enlarge or scroll through a gallery ...
MAY 2018
05.18.2018
some new sketches ...
three drawings leaning on search for meaning ... from my sketchbook. shapes, reflections, images collected from inside my head or whatever i am looking at ...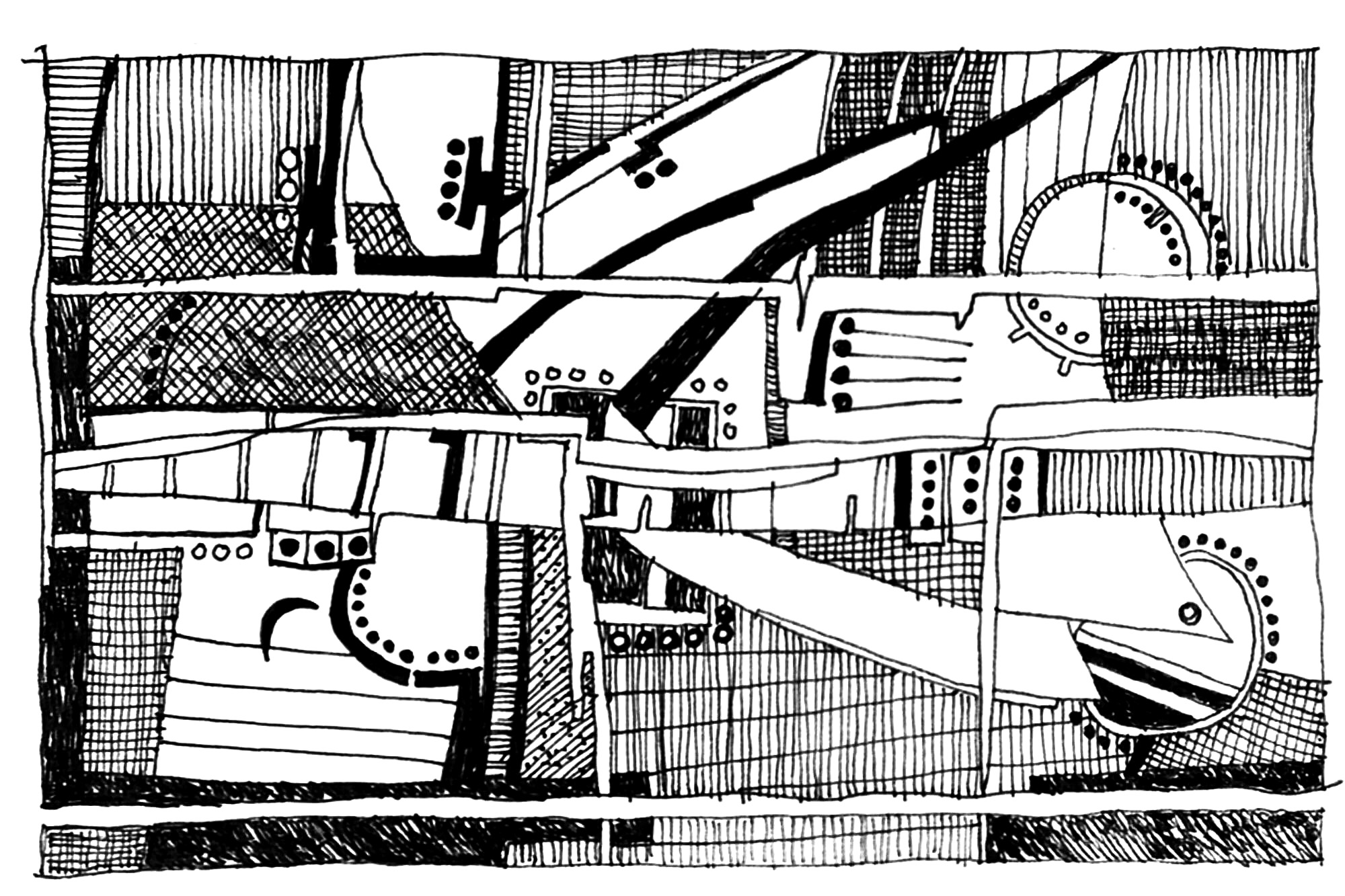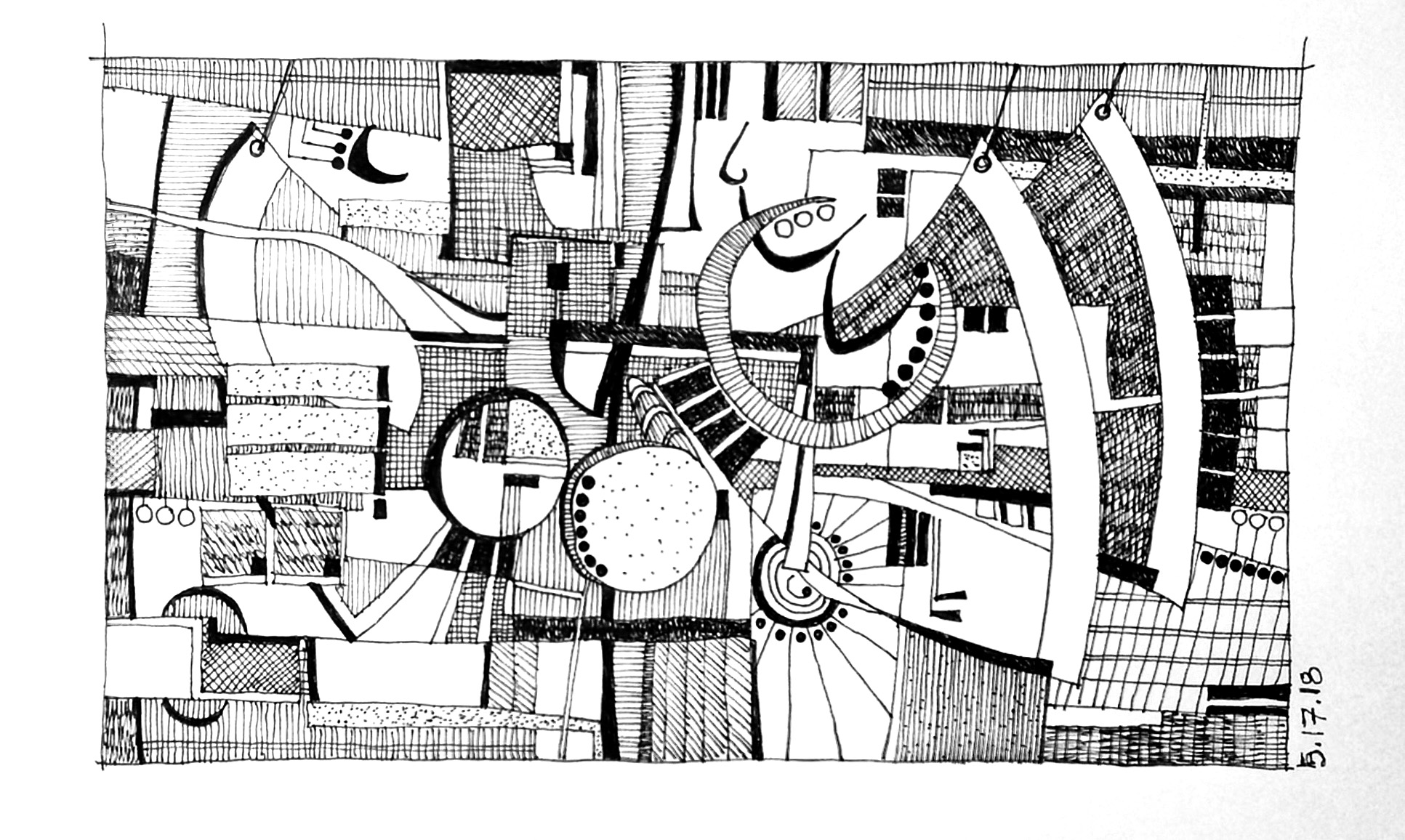 MARCH 2018
03.25.2018
thinking today ... to blog again
i figure it's been about about long enough to add some new work to my website and start a few blog entries after a lot of time has passed. making the time is the requirement. after several years of spending time posting entries to caringbridge.org about medical conditions, the various things associated with recovery and fighting with healthcare insurance companies, maybe I can finally make some time to look at this blog about random things and commentary on art or other thoughts. i don't know, it's not as easy to pull it together in HTML for this site and post, but give it a whirl the mind says to me.
i'll begin by saying that having a really bad automobile accident changes your life in many, many ways. the best thing is that we were not killed by the impact and we are grateful for that, second best is the outpouring of love, prayers and care we have received from friends and family in this ordeal, but the worst thing is that recovery takes such a very long time and changes what you have time for and where you want to place priorities. there are many things in life that can do that, and you can find that blogging on one's own website is one of those things that can be greatly neglected.
to those who have followed the entries that i spent time posting for the last two years to caringbridge.org, you got to see a fragment of how life goes for dian and me. i still add entries there, but the entries are at a slower pace. that's a good thing. the new normals are what we have established. if you haven't followed those, all i can add and say is that in august of 2015, we were hit in the rear of our car by a speeding truck whose driver never saw us or even slowed down (apparently) as he impacted our stopped car at a road construction site near seabrook island, sc and we have spent a great deal of time, money and effort trying to recover from the physical and the mental damage. the damage to me has been a messed up septic knee joint that was a result of an infection from all of the cuts and scrapes. although it is a constant reminder to me of the accident due some nerve damage and the memory of how fragile the body is behind the wheel of an automobile, yet compared to the recovery that dian has had to undergo, my knee and limited abilities seem trivial. her physical damage was from an impact related aneurysm to her brain that required extensive surgery and recovery. the physical and mental recovery of all abilities, thought processes and physical challenges that occur when the brain is involved will effect her the rest of her life. we recover, but things are always different.
that being written, i can still sit here and listen to antonin dvořák's first two symphonies as I write and admire the beauty and complexity of the music, the sunny afternoon where i am located and feel so lucky to be able to do something as simple as listening to music or enjoying the sunlight. what a wonderful world of creation and energy we live in ... yet, so many never get the chance to experience it either by choice or by circumstances.
okay, it's a start ... where from here? make the time, go forward into life. see what happens ...
MAY 2016
05.21.2016
time ... passages to a different place
i look at photos and think of how happy we were and find it so hard to accept that in an instant it all changes.
the months have passed without having time to even consider blogging. and now, late at night, i am thinking of what to say to even speak of the damage. i'm not going into detail here, not yet, but the story of how life can be altered by the careless actions of another human being and the extent of what happens to someone with a brain injury effects everything is vast. both of us are changed by injuries. i'll write more on the subject later, but for now, i still, after many months, am trying to figure a way to grasp it.
JULY 2015
07.23.2015
one on mixes the best
yes, i've changed the colors of the blog again . . . i can do that if i want while this month flies by.
current list of things:
inherit the light
close down the affair
disclose the numbers
repeat the image
speak only truth
allow the spoken
release the wounded
avoid the reflection
make the right happen
float over the flood
reach for justice
and so below, another sketch for this collection that is mixing a few of the ideas that have been floating around in my head. what's there?
finished reading madame picasso which was originally going to be a summer reading selection for a book club that we have joined. interesting to learn a bit more about pablo picasso's early life as he was at the cusp of his success as an artist—even if it is a novel. i didn't find the conversation dialog to reflect the period as i imagined it should be, but the audience is not at that time either. would gertrude stein have talked the way as presented? would pablo picasso had spoken in such tones and words? never sure what the best way to handle that is . . . i see and hear the same in a lot in the movie and entertainment industry as well. question: does one write dialog as it was spoken at the time or write for the audience reading or seeing the work? is it about understanding or being truthful? making someone use their mind to understand the dialog? at least one can be challenged to use the words of the historical time.
here's another sketch . . . does it matter? tree-like forms with moon rising? it just escaped.
---
07.15.2015
off to the new doctor . . .
july's been a hot month, maybe a bit cooler than june, but not significantly different. today was an appointment with a new doctor. why the new doctor? mainly, because our new health insurance policy didn't cover the previous medical group and my doc had retired from the practice anyway. some time ago as it turns out. so this was a first visit. and the first visit was . . . paperwork, and a bit of examination. punch here and see if it hurts, that sort of thing. these days if you don't fit the numerical codes, you have a problem, since you might not exist. blood work was simply a pain of code selections. the state of modern medicine?
here's a sketch for a multi-panel work, to help increase domain and widen interest, this marches . . . winged forms and flower-like objects.
---
07.04.2015
fireworks—in thoughts at least
we had our friend, pat, visiting for july fourth and took it easy. dinner came from the charcoal, yes, real burning charcoal and wood grille (no gas imitations here) with a basic primal type of cooking (at least i didn't burn the whole lot this time) with fire and smoke adding to the taste sensation. followed by, as it grew darker, a listen to the celebratory fireworks of the fourth rather than going to actually going anywhere to view them. we all knew what they look like, anyway. there were plenty of opportunities offered, but we chose to hear the explosions from afar and as it turned out, all around . . . seems like all night long on the third, the fourth and the fifth. i chose to text the deal with pop, bang and sizzle. kaboom was what i got back.
below a sketch for the window treatments, a panes collection that should stand. and does it reach potential?
JUNE 2015
MAY 2015
APRIL 2015
MARCH 2015
FEBRUARY 2015
JANUARY 2015
DECEMBER
NOVEMBER
OCTOBER
SEPTEMBER
for additional information on my work, commissioning pieces or to respond/comment on this blog:
contact me at:
blog@jfj-art.com